Rice noodles known as "sevai" in Tamil are noodles made from rice. It is more or less similar to idiyappam except for the method of preparation. Now-a-days as we get instant sevai packets or sevai flour in the market, rarely do we make rice noodles at home from scratch, but still I wanted to share this traditional method of making sevai from scratch. My aunt does not like the instant varieties available in the market and prefers to make it at home. She makes it once every week for evening tiffin or for dinner. I have given 2 methods of making sevai, the first one is an easier version and the second one (which my aunty follows) involves double cooking, which keeps the sevai very soft even after hours of preparation. Today we will learn how to make sevai at home following this easy recipe with step wise pictures.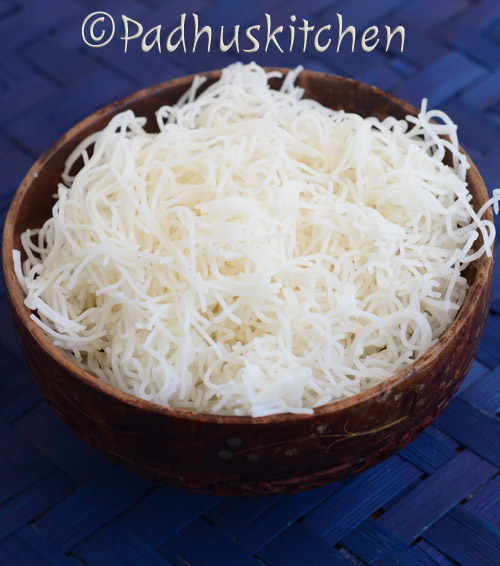 Sevai Recipe-Rice Noodles from Scratch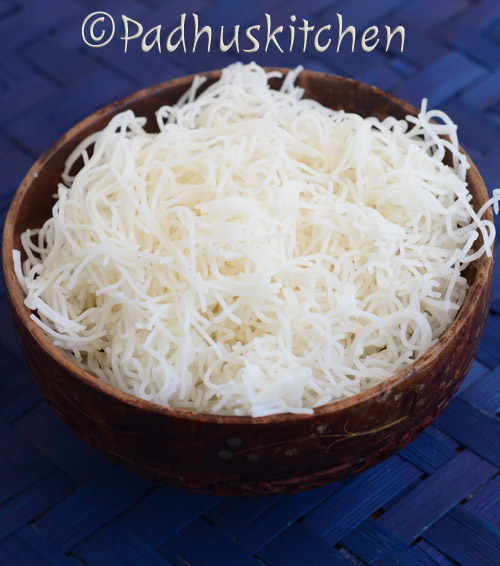 Prep Time : 45 mins (excluding soaking time)
Cook Time
:
20 mins
Serves
: 3
Recipe Category
:
Breakfast-Dinner
Recipe Cuisine
:
South Indian
Author
:
Padhu Sankar
Ingredients needed
Parboiled rice – 1 1/2 cup
Salt – 1 tsp
Oil – 1 tbsp
Steamer
Sevai maker or regular press
Batter for making sevai

Wash and soak parboiled rice (used for cooking) for 3 hours.

After 3 hours, drain the water and grind the rice to a very smooth paste adding little water. The consistency should be that of idli batter. Do not add too much water while grinding. Add a tsp of salt and mix well. Grinding it to a smooth paste is very important.

The batter is the same for both the methods.

Grease the sevai maker with a few drops of oil and keep it ready.
Method 1

Add a tbsp of oil to the batter and mix well.


Bring water to boil in a steamer or idli pan/kadai. Place the greased idli plates (you can also use damp cloth) and pour a ladle of batter into the idli moulds. Steam cook the idlis for 15 minutes or until cooked. These idlis will be very hard compared to our regular idlis.


Now put 1-2 hot idlis into the sevai maker and press to get hot rice noodles or sevai. Repeat the process for the remaining idlis. (If the idlis get cold, you will find it very difficult to press, so keep the rest of the idlis inside the steamer or idli pot to prevent it from getting cold, as you will be making it in batches).

Put the remaining idlis in batches into the sevai maker (sevai nazhi) and press it to get hot rice sevai/noodles.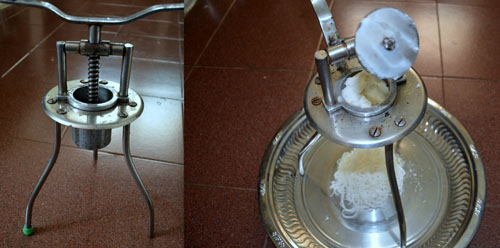 Let the sevai cool. Then you can season the sevai as per your liking. You can make varieties of dishes using the sevai.
Method 2

Prepare the batter as mentioned above.

Heat a tbsp of oil +2 tbsp of water in a kadai or pan preferably nonstick for beginners.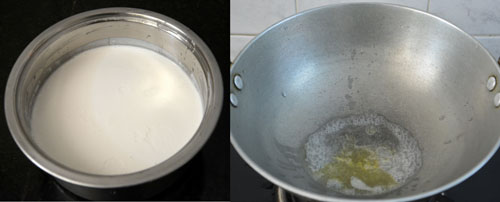 When the water starts boiling, switch off the flame and add the batter gradually, stirring continuously with your other hand using a dosa ladle or spatula.

Switch on the heat and start cooking the batter stirring continuously until it comes together to form a dough.
Transfer the dough to a plate. Grease your hand with a little oil and knead the dough slightly to make it smooth.


Divide the dough into 8 balls. Bring water to boil in an idli cooker or steamer, place the greased idli plate on top of it and then place the balls on the idli plate, cover it and steam cook for 15 minutes.


Now add the warm steam cooked balls, one at a time into the sevai maker and press to get steaming hot sevai as seen in the picture below. Repeat the process for the rest of the balls before it gets cold.

Wow, look at the delicious sevai on the plate. In this method the sevai is more softer than the first method.

You can follow the first method when you run out of time. In that method the sevai is good but not as soft as in method 2 which involves double cooking.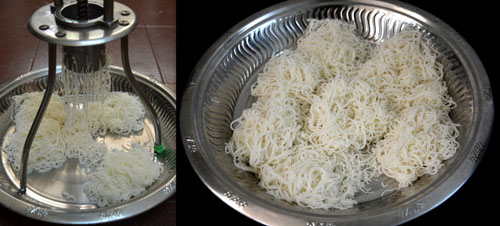 Note – If you want to make this for dinner, you can make the sevai in the morning or afternoon itself and season it just before dinner time. You can also have it plain with sweetened coconut milk.

You can make a variety of dishes using the plain sevai – For eg – you can make sevai biryani, sevai pulao, tomato sevai, lemon sevai, coconut sevai, tamarind sevai (just mix pulikachal with sevai-check my recipe for pulikachal), mint sevai, jaggery sevai etc. I made lemon sevai, coconut sevai, vella sevai and vadam. I have given the link for the seasonings below.
Lemon Sevai (elumichambala sevai)
Coconut sevai (thengai sevai)
Jaggery sevai/vella sevai
Vadam as side dish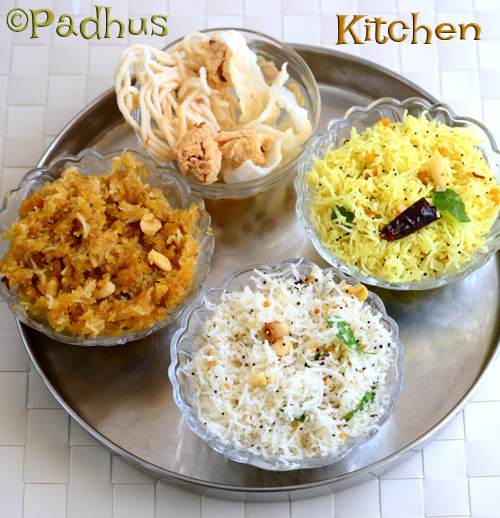 Vadam-Lemon sevai-coconut sevai-jaggery sevai
If you found this post useful, I would really love it, if you pin it or share it with your Facebook fans or Twitter followers or Google+ circles today. All it takes is a simple click on the "pin it" "like," "share," "tweet," or Google+ buttons below the post. Thank you!