Potato stuffed buns are very easy to make. They can be had for breakfast, dinner or as a tea time snack. I have used potato fillings for the buns, you can use any filling of your choice. The options are endless. Though I don't bake buns often, I was very happy that these potato stuffed buns turned out very soft and delicious. Today we will learn how to make potato stuffed masala buns following this easy recipe with step wise pictures.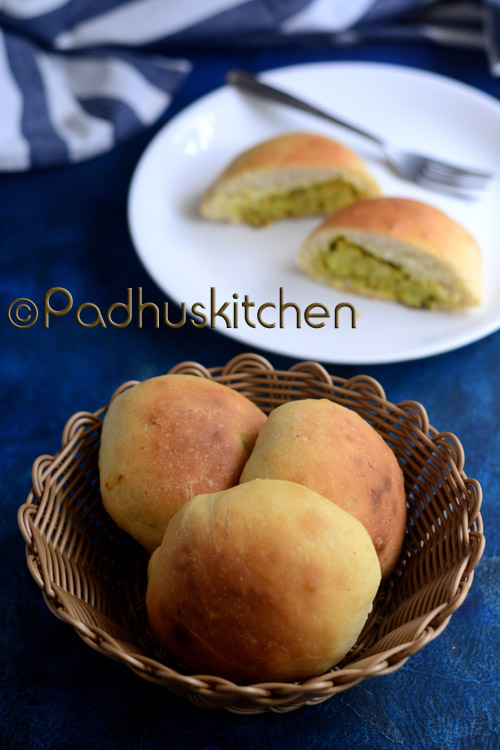 Potato Stuffed Masala Buns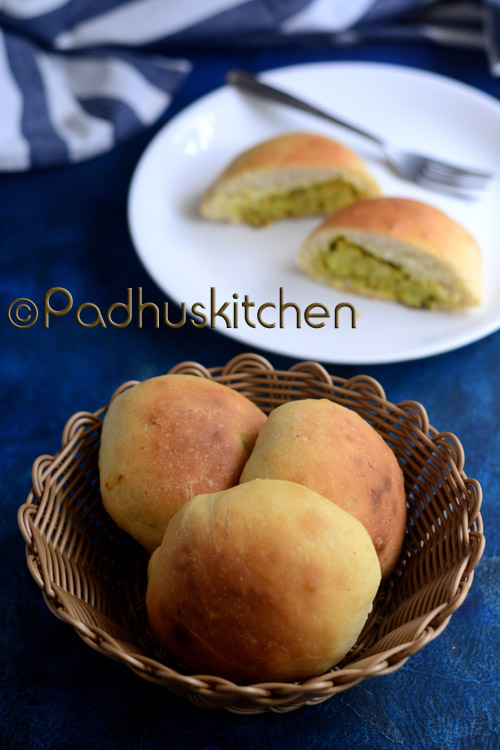 Prep Time : 15 mins
Cook Time
:
30 mins
Yields
:
5 Masala Buns
Recipe Category
:
Bakes-Breakfast
Recipe Cuisine
:
Indian
Author
:
Padhu Sankar
Ingredients needed
All Purpose flour/maida – 300 grams or 2 cups
Salt – 3/4 tsp
Butter – 1 tbsp or 1 1/2 tbsp oil
Milk for brushing – 1-2 tsp
Yeast – 2 tsp
Sugar – 2 tsp
For the Potato stuffing
Boiled Potatoes – 3 medium sized
Onion – 1 chopped finely
Ginger – 1 inch piece
Green chillies – 1-2 or chilli powder
Turmeric powder – 1/4 tsp
Salt as needed
For the seasoning
Oil – 3 tsp
Mustard seeds – 1 tsp
Cumin seeds – 1 tsp
Curry leaves – a sprig
For Garnishing
Coriander leaves
Proofing the Yeast
Mix sugar in 1/4 cup lukewarm water. Add yeast to that water, mix well and set aside for 10 minutes. After 10 minutes, you will find the yeast frothy (as in the picture below), which means, it is working and active. If it is not frothy, then the yeast is not working. You have to get a new pack.
Method
In a bowl mix together all purpose flour, salt, soft butter and the yeast + sugar mix.

Add more water, little at a time and make a slightly loose/soft dough but not sticky.
Grease your hands with oil and knead the dough until smooth.
Coat/smoothen the dough slightly with oil all over, cover it with a damp cloth and let it sit for one hour. In the meantime we will prepare the potato filling.

How to prepare potato stuffing
Boil potatoes, peel the skin and mash it well. Do not make it to a paste.
Heat oil in a pan, add mustard seeds and cumin seeds, when it sizzles, add curry leaves, finely chopped onions, ginger and green chilli.
Saute until onions turn transparent.
Add mashed potatoes, turmeric powder and salt needed.

Mix well and turn off the heat. Garnish with finely chopped coriander leaves and leave it to cool.
Make golf sized balls from the potato mixture.

After 1 hour –
Line a baking tray with parchment paper or aluminium foil or grease the tray with oil.
By now the dough would have doubled. Punch the dough with your fist and knead it again slightly.

Divide the dough into 5 equal parts. Take one part, make a smooth ball out of it, flatten it slightly and place the potato filling.
Bring the edges together and pinch to seal it. Shape it into a bun, smoothen the top and place the buns with the sealed side down on the baking tray. Repeat the same for the rest of the dough balls and the potatoes.

Preheat the oven for 10 minutes at 180 degrees C.
When placing the buns on the baking tray, place it with enough space between them. Brush the buns slightly with warm milk.
Bake at 200 degree C for 20 minutes.

Reduce the temperature to 175 degree C and bake for another 10-15 minutes or until done. I used the top coil alone for 5 minutes to brown the top towards the end of baking.

Remove from oven and place it on a wire rack. Once warm, you can enjoy potato stuffed masala buns with ginger tea or coffee or even have it for breakfast.
Note – You can add garam masala powder to the potato filling if you prefer. You can add chilli powder instead of green chillies.
You can use any filling of your choice other than potatoes (For example – with mushroom, paneer or any vegetables).
The timings may differ depending on the oven settings, so keep an eye while baking the buns.
You can check my
Eggless Garlic Rolls and more baking recipes
Thank you for taking your time to visit Padhuskitchen.