Conchiglie Pasta is commonly known as "shell pasta". This is one of my favorite pasta and I love it both with white sauce and red sauce. For this pasta recipe, I have added colored bell peppers to make it more nutritious and colorful. This conchiglie red sauce pasta with bell pepper makes a filling meal and is very easy to prepare. This is sure to be a hit with the entire family. Today we will learn how to make this Easy Conchiglie Pasta recipe following our step by step pictures.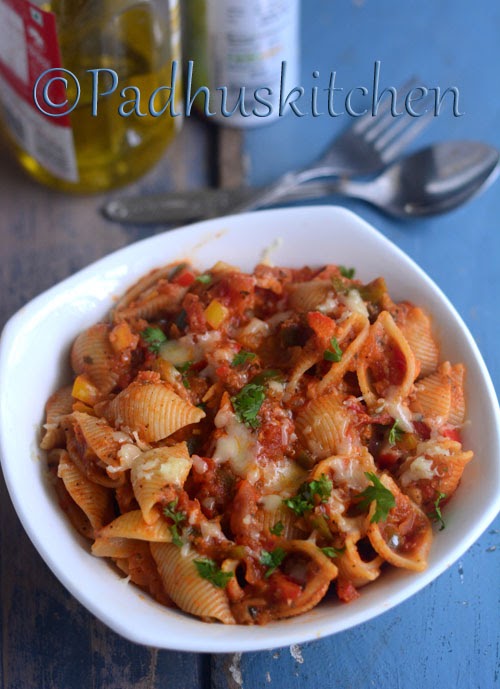 Easy Conchiglie Pasta Recipe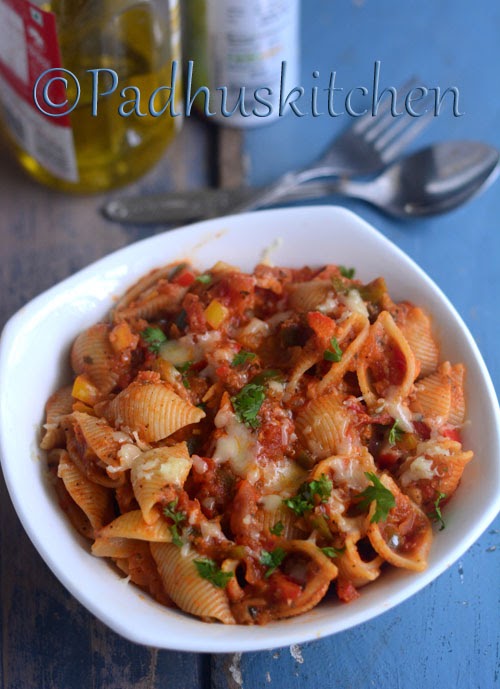 Prep Time : 15 mins
 Cook Time
: 15 mins
Serves
: 2
Recipe Category
: Pasta-Dinner Recipes
Recipe Cuisine
: International-Pasta
 Author
:Padhu Sankar   
Ingredients needed
   Shell pasta or any pasta – 1 1/4 cup
   Salt needed
   Large Tomatoes – 6
   Garlic – 2 tbsp minced
   Onion – 1
   Bell Pepper (all colors) – 1 cup
   Tomato ketchup – 1 tbsp
   Dry Oregano powder – 3/4 tsp
   Dry Basil Powder – 1/2 – 3/4 tsp
   Salt to taste
   Pepper powder to taste
   Grated cheese – 1/4 cup
Preparations
Using a sharp knife, cut a shallow X at the bottom of the tomato. Bring water to boil. Add all the tomatoes and let it cook for 1-2 minutes. Remove from heat and let it sit for 5 minutes. Remove the tomatoes from the water, peel the skin and discard the core. Chop 2 tomatoes and keep it aside. Puree the other 4 tomatoes and keep it ready.
Finely chop onion and garlic. Chop all the bell peppers.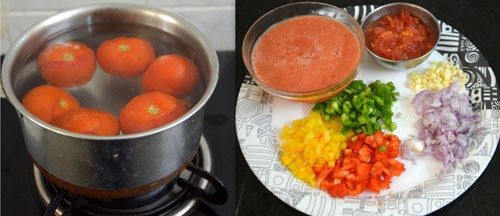 How to cook Conchiglie pasta
Bring plenty of slightly salted water to boil. Add the pasta, reduce the heat to medium and let it cook. Keep stirring in between to prevent the pasta from sticking to each other. Cook until soft but not mushy. Test by tasting the pasta (you can use any pasta for this recipe).

Once cooked, drain the water and pour cold water on top of it to stop further cooking.

Method
Heat olive oil in a pan, add garlic and saute for a few seconds. Then add onions and saute until onions turn transparent.
Add chopped tomatoes and saute for 2 minutes.

Add the chopped bell peppers. Cook for a few seconds.

Add tomato puree, tomato ketchup, salt needed, pepper powder, dry oregano powder and dry basil powder.

Cook on low heat stirring occasionally until the sauce thickens and changes color.

Now the sauce and the pasta is ready. Mix the pasta with the sauce. Top it with grated cheese (morzella or parmesan) You can even use amul cheese, if you cannot get parmesan cheese.

Garnish with fresh parsley and enjoy it warm. It makes a meal in itself. It is easy, comforting, effortless and of course super delicious. These shell pastas holds the sauce well and that makes it very delicious.
I would love to hear from you, please feel free to share your feedback with photos to
[email protected]