This is a very traditional Wheat biscuit recipe from my mom's cookery notebook. It is quite simple to prepare and is loaded with fiber, iron (from jaggery) and nutrients (from whole wheat flour).You can relish these biscuits without any guilt any time of the day. They are so good to eat and yet it is so easy to make. Today we will learn how to make whole wheat biscuits with jaggery following this easy recipe with step wise pictures.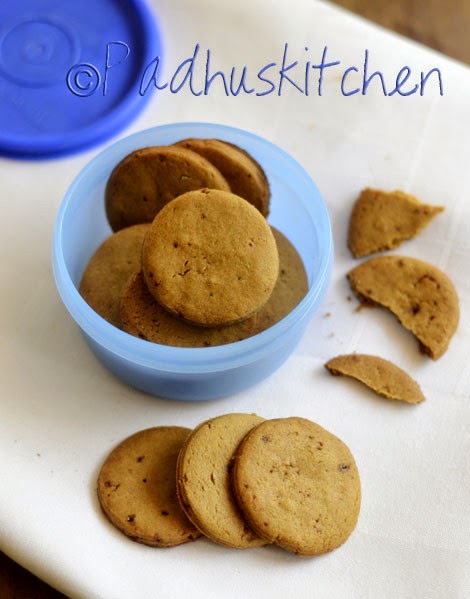 Whole Wheat Biscuits-Atta Biscuit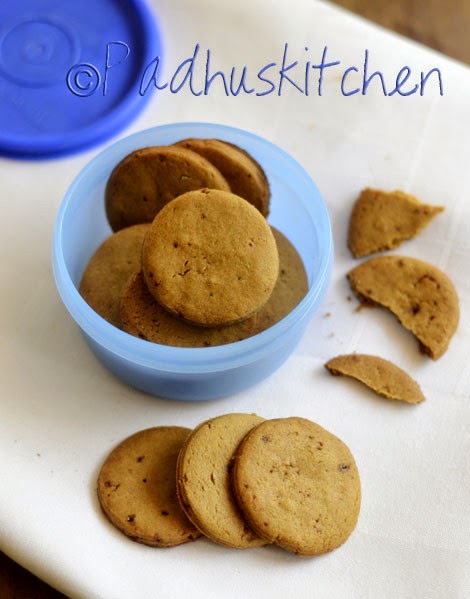 Prep Time : 10 mins
Baking Time
:
20 mins
Recipe Category
:
Healthy Snacks
Recipe Cuisine
:
Indian
Ingredients needed
Wheat flour/atta -1 cup
Baking powder -1 tsp
Salt – a pinch
Cold unsalted butter -100 grams
Pure organic Powdered Jaggery/Powdered sugar -1/2 cup
Cardamom powder -1/4 tsp
Milk – 2 tbsp

Preparation

Sieve together wheat flour, baking powder and salt.

Preheat the oven at 180 degree C for 10 minutes.

Grease your baking tray with a little butter or oil.

Keep all the ingredients ready.
Method

Cut the butter into small pieces and add to the wheat flour mix.

Mix well with your fingers until butter blends well with the flour and the mixture resembles coarse crumbs. This is a very important step. Add powdered sugar or jaggery, cardamom powder and mix well with your fingers.

Add cold milk (only as much as you need to make a dough) and make a smooth dough. Refrigerate the dough for 15 minutes.

Dust the rolling board with flour, then roll out the dough evenly (It should neither be too thin nor too thick). Using a biscuit cutter or cookie cutter or bottle lid, cut it into desired shapes. I have used a round lid. Arrange it on the greased baking tray.
Gather the remaining dough, roll it out using a rolling pin and repeat the same process as above until all the dough is used.

Bake in a preheat oven for 15 minutes or until the biscuits start browning on the edges. Remove from tray and leave it to cool.
Store it in an airtight container. Enjoy these healthy, guilt free biscuits any time of the day. It is also a perfect and healthy snack for kids.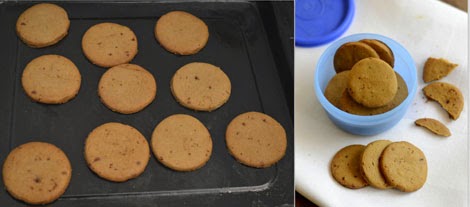 Notes -Use jaggery only if you can get pure jaggery (without any impurities) otherwise it is better to use sugar.
Check out more Tea Time Snacks Recipes and more cakes and cookie recipes.
Don't forget to hit the +1, Share button, Tweet button, Pin it button, if you like the post. You can follow us on Google Plus, Pinterest, Twitter, Facebook and Subscribe to RSS Feed to receive latest updates.