Christmas is round the corner, what could be better than Gingerbread cookies to celebrate. This classic Gingerbread cookie is full of flavors and easy to make. Since I could not get molasses, I have used brown sugar for this cookie recipe.The cookies were sweet, chewy, delicious and perfectly spiced. I enjoyed making and decorating gingerbread cookie as a man, girl, child, star and even as reindeer. Every Christmas I make it a point to do something special. Last year it was
boil and bake fruit cake
and
oreo cupcakes
. This time I choose this mildly spiced and flavorful ginger cookies. Today we will learn how to make gingerbread men cookies following this easy recipe with step wise pictures.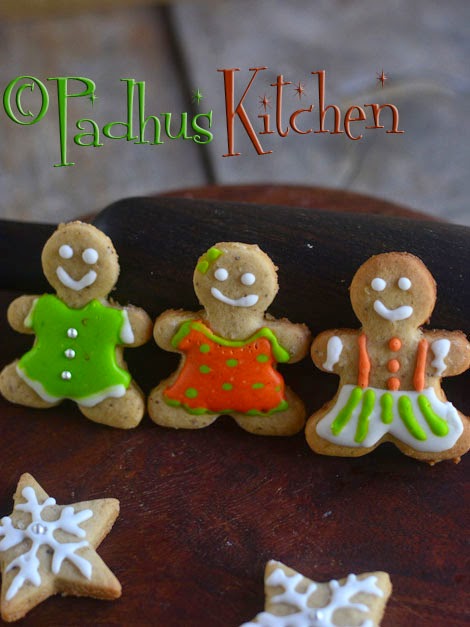 Gingerbread Cookies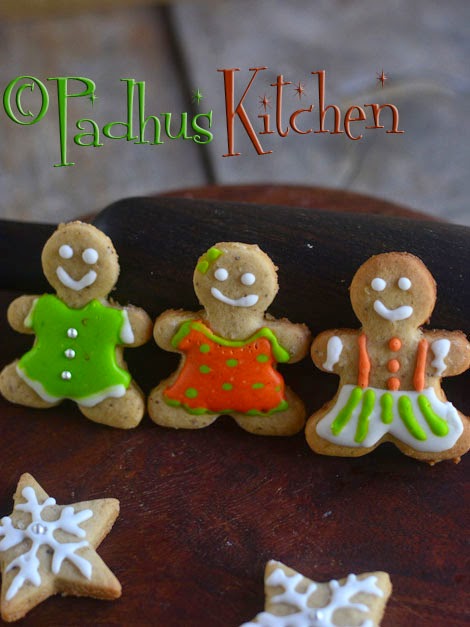 Prep Time : 15 mins
Baking Time
:
10-12 mins
Yields
:
24 Cookies
Recipe Category
:
Cookies-Christmas Recipes
Recipe Cuisine
:
International
Recipe Source – Joy of Baking
Ingredients needed
Dry Ingredients
All Purpose flour/maida – 1 1/2 cup
Baking Soda -1/2 tsp
Salt -1/4 tsp
Spices
Dry Ginger Powder -1 tsp
Cinnamon powder -1/2 tsp
Cloves Powder -1/8 tsp
Nutmeg grated -1/8 tsp
Unsalted butter -1/4 cup or 55 grams
Granulated white Sugar -1/4 cup or 50 grams (powdered)
Egg – 1 small egg
Molasses- 80 ml
Gingerbread cookie cutter or any cookie cutter
Preparation
Sieve together all purpose flour, baking soda and salt. Add all the spice to it and keep it aside.
Keep all the ingredients ready. Bring it to room temperature.
Molasses substitute – Heat 2 tbsp of water, add light or dark brown sugar and heat it until it dissolves. Use this liquid instead of molasses.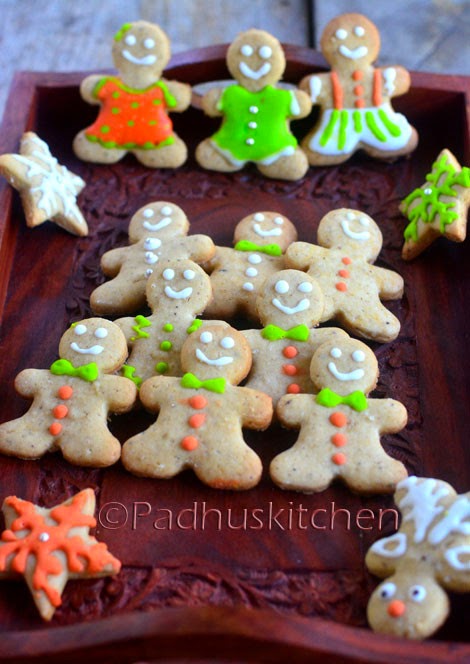 Method
Beat butter until soft. Add powdered sugar and beat until light and fluffy.

Add eggs and beat until well combined.

Add molasses or brown sugar liquid and beat until well combined.

Add flour in two batches and beat on low speed until well incorporated. Gather and make a smooth dough.

Divide the dough into half and wrap it in a plastic sheet and refrigerate overnight or until firm.
After refrigeration
Pre heat oven at 180 degree C for 15 minutes.
In the meantime, roll out the dough evenly dusting flour to 1/4-inch thickness. Using a gingerbread man cookie cutter or any desired cookie cutter, cut out the cookies.
Line cookie tray with parchment paper and space the gingerbread cookies 1 1/2 inch apart. Use the middle rack for baking and bake in batches. Gather the remaining dough and repeat the same process.

Place the baking tray with the cookies in the refrigerator for about 10 minutes. This is done to prevent the cookies from losing their shape.
Then bake for 8-10 minutes or until the edges starts to brown.

Once baked, remove the tray from oven and allow it to cool. Once the cookies become slightly firm, remove from the tray and transfer to a wire rack to cool completely.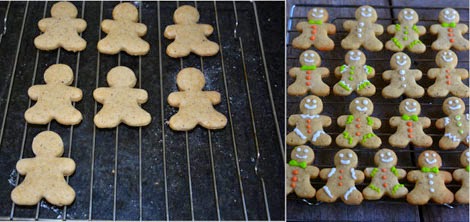 Afer it cools completely, you can decorate it the way you like.
I used royal icing to decorate the cookies and I enjoyed it a lot!! Check out royal icing recipe here.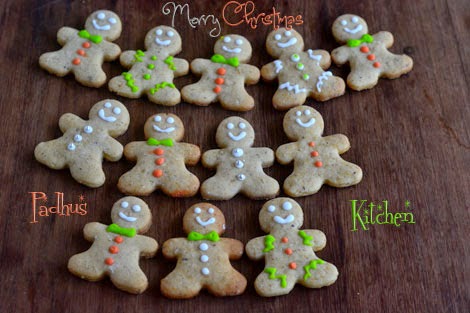 Note
You can make a hole at the top of the cookies with a wooden skewer before baking, in case if you are planning to hang the cookies for decoration.
You can decorate it with butter icing or royal icing after the cookies cool completely.

You can even decorate the cookies with raisins or candies when the cookies are warm.

You can decorate it as reindeer, if you turn the gingerbread man the other way round (see 3 rd picture above).
Check out my lovely collection of Christmas Recipes
If you found this post useful, I would really love it, if you pin it or share it with your Facebook fans or Twitter followers or Google+ circles today. All it takes is a simple click on the "pin it" "like," "share," "tweet," or Google+ buttons below the post. It will keep me motivated. Thank you!