Appam is a very popular and traditional breakfast of Kerala. This is not the typical Kerala appam recipe but the Tamil Nadu style of making appams. Appams are soft and spongy in the center and has a lacy border. It is very good for health as it does not require much oil and I have not added much coconut also. This was requested by a reader long time back but I could not post it earlier. I learn't this from my dear friend. There are hardly any chances for this recipe to go wrong as I have tried it many times and every time it comes out very soft.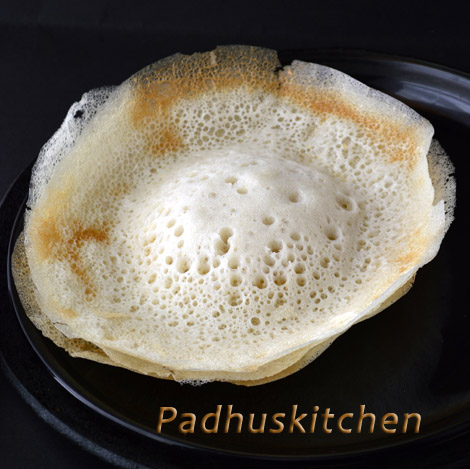 How to make soft appam without yeast
Raw rice – 1 cup
Par boiled rice – 1 cup
Fenugreek seeds – 1 tsp
Urad dal – 2 1/2 tbsp (whole urad dal without skin)
Coconut milk -3 tbsp
Cooking soda or appam soda – 1/2 tsp
Appam pan (also called appa chatti)
Appam preparation
Soak raw rice, par boiled rice, fenugreek seeds and urad dal for 10-12 hours.(I soaked it from morning 6 to evening 6 pm, then ground it and fermented it overnight)
After 10 hours, grind it to a
fine paste
. Add salt and mix it well with your hands. You can use lukewarm water to grind but it is optional. The batter should be of thinner consistency than
dosa batter
. Store it in an airtight container, leave it for another 10 hours or overnight to ferment. In the morning the appam batter would have raised nicely.
Before making appams, add coconut milk, appam soda and mix well. If the batter is too thick, adjust the consistency by adding water. Keep it aside for 10 minutes.
After 10 minutes- appam batter can be used to make soft appams.
Method


Traditionally appams are made in iron skillet called appa chatti. I have used the Prestige non stick appam pan. If you do not have appa chatti or appam pan, you can make it in any other non stick pan with lid.
First coat the appam pan with oil using a cloth. (Add a drop of oil into the pan and wipe it all over with a cloth.)
Heat the appam pan, then reduce the heat to low. Now add a ladle of batter in the center of the pan.(pan should be hot but not too hot)

Holding both the handles of the pan, rotate the pan in such a way that the batter spreads all around in a circle. The remaining batter will come to the center (that is why the appam is thick in the center and lacy on the outside) See picture below – My maid was kind enough to do the rotating for me so that I could take pictures to show you all.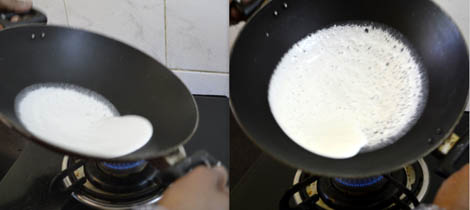 After that close the pan with the lid. The flame should be kept in low. Once the appam is cooked and the edges start turning brown, remove the appam from the pan. (the appam will come off easily if you lift it with your hands)

Serve appam hot from the pan with
sweetened coconut milk
or any coconut based dishes.
Check out my Vegetable stew recipe.
Even coconut chutney goes well with appam.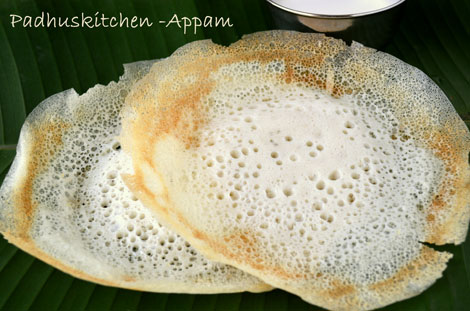 Appam with coconut milk
Note – This is a foolproof recipe. Suppose, if the appam gets stuck to the pan, then you have added more coconut milk.
Add coconut milk and cooking soda only at the time of making appams to needed batter as if you add coconut milk to the whole lot, you cannot store the batter for long.
Appam without cooking soda and Yeast
Many of you have been asking for appam without cooking soda also.
If you do not want to add coconut milk or cooking soda/appam soda, then you can soak 1 cup of beaten rice/aval/poha, 30 minutes before grinding. Then grind poha along with the other ingredients. Ferment for 7-8 hours. You need not add cooking soda, if you add aval/poha. I have tried it and can assure you of soft and spongy appams.
Kerala Style Appam with Yeast
Check Kerala Style Appam/Palappam which is totally different and has a different taste. Check the link below
If you found this post useful, kindly consider linking to it or sharing it with others or like us on Facebook or follow me on Twitter or join me on GooglePlus to keep up to date with Padhuskitchen.