This is a very simple North Indian Meal which I prepared at home. I love very simple yet nutritious meals. Instead of preparing an array of dishes, I plan my meals in such a way that it is nutritious and well balanced.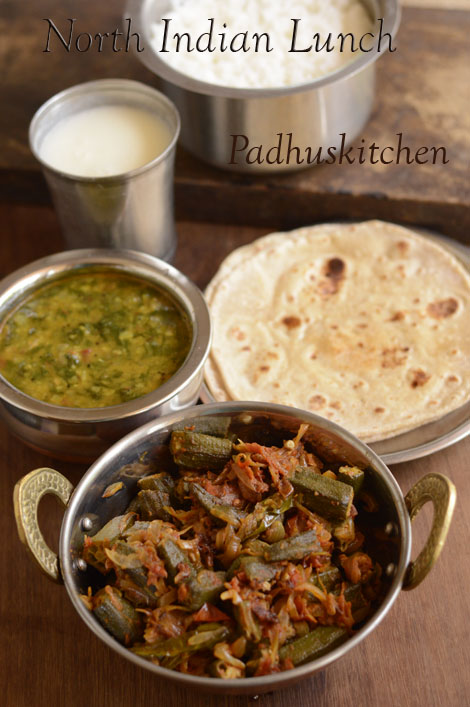 Are you a working women looking for a healthy yet simple way to cook meals? If yes, then this healthy meal plan or Healthy North Indian Lunch Idea is just for you. It took me less than an hour to make all the above dishes.
Phulka
Bhindi Masala
Dal Palak (spinach with lentils)
Chaval
Curd or Lassi
In the menu above you have greens with lentils (palak and dal). Lentils have a high nutritional value. Spinach or Palak is store house of nutrients. It is rich in iron and contains a good amount of soluble dietary fiber. Phulka is made from whole wheat -whole grains substantially lower Type 2 Diabetes Risk. Lady's finger has a good sources of fiber, folates and other vitamins and minerals. Instead of curd, for a change I made lassi to have after meals.Curd is rich in calcium and rice has carbohydrates.
I have been posting a variety of Lunch Menus since a long time-Check more interesting and simple Lunch Menus
If you found this post useful, I would really love it if you pin it or share
it with your Facebook fans or Twitter followers or Google+ circles today. All
it takes is a simple click on the "pin it" "like," "share," "tweet," or Google+
buttons below the post. It will keep me motivated. Thank you!