Shrikhand is a very popular Indian dessert made from strained yogurt. It is one of the main desserts in Maharashtrian and Gujarati cuisine. In Gujarati cuisine, shrikhand is eaten either as a side-dish with breads such as
poori
or as a dessert. It is commonly served as part of a vegetarian thali in Gujarati restaurants and is popular as part of wedding feasts.(source-Wiki) A popular variation of shrikhand in Maharashtra is Amrakhand which is shrikhand blended with mango pulp. This exotic dessert is very simple to prepare and is also one of my favorite dessert.Today let us learn how to make Amrakhand following this easy recipe.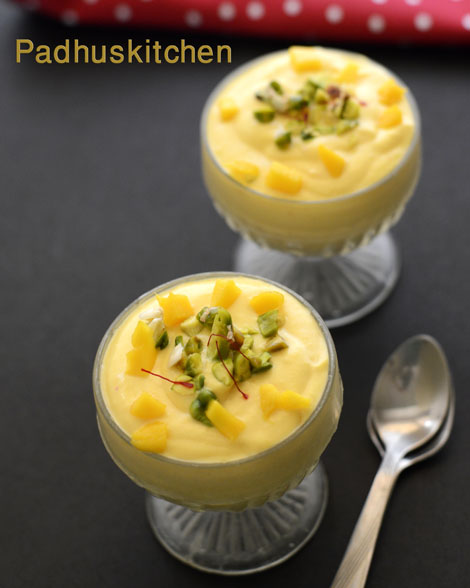 How to prepare Mango Shrikhand
Prep time -10 mins (excluding preparation of hung yogurt)
Cook time – nil
Serves -2
Ingredients needed
Yogurt
– 3 cups (should not be sour)
Powdered sugar – 1/4 -1/2 cup or as required
Pistachio -2 tbsp
Almonds – 4
Cardamom powder – 1/4 tsp
Saffron -10 strands
Warm milk -1 tbsp
Mango Puree – 1 cup (Mango should be sweet)
For garnishing
Few mango bits
Pistachio and almonds
Preparation
Place yogurt in a muslin cloth and hang it overnight or for 6-7 hours to drain out the whey from the yogurt.
Tie it and place it inside the refrigerator otherwise the yogurt will become sour.
Soak pistachio and almonds in hot water for 10 minutes. Remove the skin and chop it into small pieces.
Soak saffron in warm milk.

After 6 hours, I took the yogurt from the
refrigerator. See how creamy the hung yogurt is in the picture below.


Method



Using a wire whisk or a spatula, mix the hung yogurt with powdered sugar nicely for 5-6 minutes or until the sugar dissolves. Shrikhand is all about texture, so mixing well is very important.
Now add the saffron soaked in milk, half of the chopped pistachio and almonds, mango puree, cardamom powder and mix well.

Keep it in the fridge for an hour. Garnish with chopped pistachio, almonds and mango pieces.This dessert should be served chilled.
Note
– Use sweet mangoes only.
If you can get alphanso mangoes, do use that.
I have used puree from fresh mangoes.Store bought mango pulp can also be used.


Chironji can also be used along with pistachio for this dessert.
More Ripe mango recipes
If you found this post useful, kindly consider linking to it or sharing it
with others or like us on
Facebook
or follow me on
Twitter
or join me on
GooglePlus
to keep up to date with Padhuskitchen.