Pani pooris are known as "Golgappas" in North India and "poochkas" in West Bengal. It is a very popular street food or chaat item in India. This snack is loved by both youngsters and adults.The crisp puris are stuffed with potatoes, moong sprouts/chickpeas and then filled with spicy chilled masala water and served. Making pani puri at home is hygienic and economical. Today we will learn a very easy method to make pani poori at home following our simple recipe.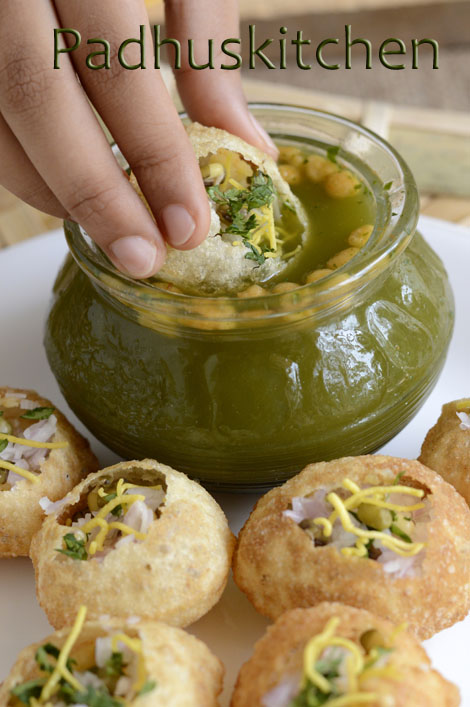 Would you like some pani poori?
How to make pani poori at home
Ingredients needed for the pani
Ice cold water – 3 cups
Green chutney – 3 tbsp
Sweet chutney (dates tamarind chutney) – 2 tbsp
Chilli powder – 1 tsp
Chaat masala powder- 1 1/2 tsp
Roasted Cumin/jeera powder -1 tsp (dry roast cumins seeds and powder it)
Boondi – fistful
(Click the link for green chutney and sweet chutney recipes)
Method for preparing Pani
Take ice cold water in a bowl and mix all the ingredients mentioned above from green chutney to jeera powder. There are no hard and fast rules regarding the measurement. You can taste the pani and add more or less of chutney or spice powder according to your personal preferences. Chill for an hour for the flavors to get blended well with the pani. Add a fistful of boondi to the pani.
So now our pani/spiced water for pani poori is ready.
Pooris – 15 pooris – These pooris are easily available in supermarkets, so you do not have to strain yourself making these pooris. After all, we are not going to have pani puri everyday. You can get it ready made. I got it ready made from Nilgiris. Anyway I will post the poori recipe later.
Ingredients needed for the filling
Potatoes – 3-4 medium sized ones
Green chilli – 1 finely chopped
Red Chilli powder – 1 tsp
Cumin/jeera powder -1 tsp
Chaat masala – a pinch
Salt
Green gram dal /whole moong dal – 3/4 cup
Sev
Onion – 1 finely chopped
Coriander leaves – as needed (finely chopped)
Preparation
Pressure cook potatoes, peel the skin and mash it well. Add finely chopped green chillies, red chilli powder, cumin powder, chaat masala, salt needed and mix well. Keep it aside.
Soak green gram dal/ moong dal overnight and sprout it. Learn
how to sprout moong dal
. Steam the moong sprouts with salt needed and a pinch of turmeric powder. Instead of moong dal, you can use cooked chick peas also.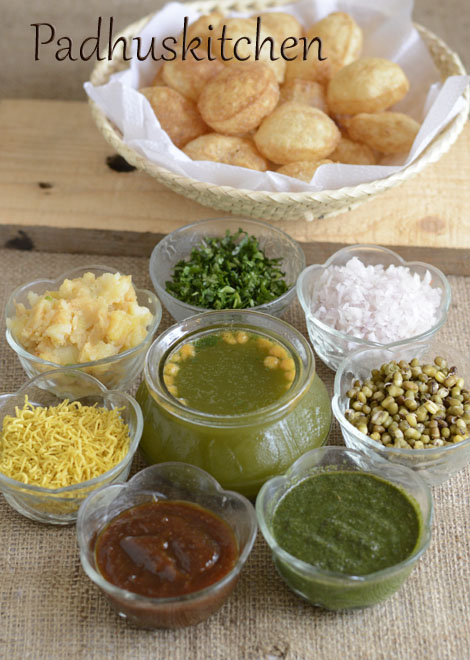 Assembling and how to serve
If you have everything ready, making pani poori is a breeze.
Take a poori, make a hole in the center big enough to fill the stuffing.(see picture below – just tap the thin side of the puri with your index finger)
Now fill the poori with a little potato mix.
Top it with moong sprouts or cooked chickpeas.
Add finely chopped onions, sprinkle just a pinch of chilli powder, chaat masala and roasted jeera powder.
Garnish with finely chopped coriander leaves and sev.
Immerse it in chilled pani and eat the whole poori with the stuffing and pani right away.
Enjoy homemade pani puri!!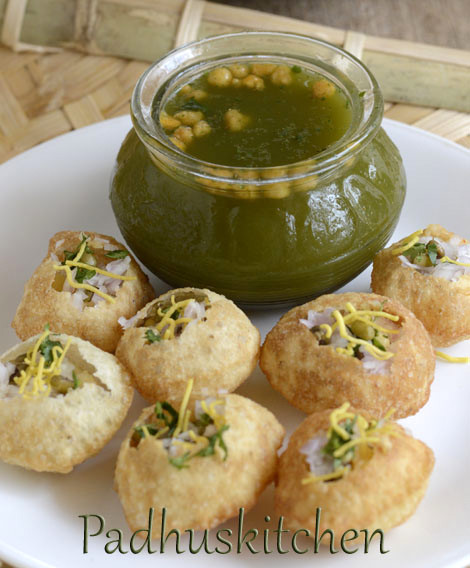 More Street food/Chaat recipes
Pav Bhaji (most popular)
Dahi Vada (dahi bhalla)


Bhel Poori
If you found this post useful, I would really love it if you pin it or share
it with your Facebook fans or Twitter followers or Google+ circles today. All
it takes is a simple click on the "pin it" "like," "share," "tweet," or Google+
buttons below the post. It will keep me motivated. Thank you!