In our last post we learn't
how to make mushroom fried rice
. Today we will see a good side dish for it. This vegetable manchurian is a super combination for mushroom fried rice. This is a very popular Indian Chinese dish prepared with vegetables. Dry Vegetable manchurian can be served as an appetizer and the vegetable manchurian gravy can be served as main course. Learn how to make Veg Manchurian both dry and gravy version following this simple recipe with step by step pictures.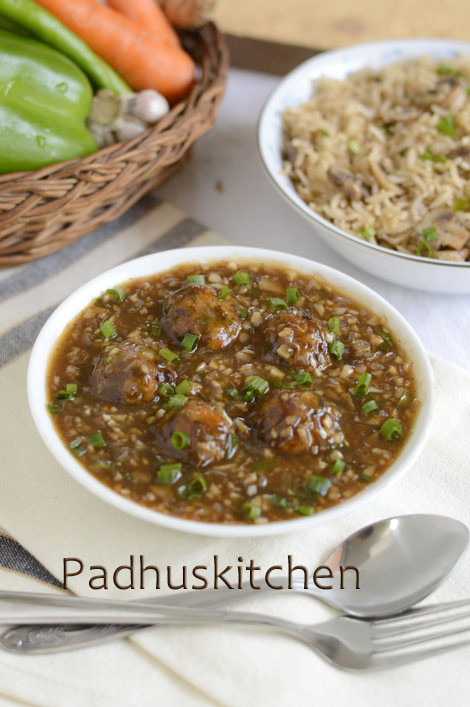 How to prepare Vegetable Manchurian
Recipe source –Vahrehvah
Prep time – under 15 mins
Cook time – under 20 mins
Serves – 2-3
Ingredients needed for the Veg balls
Mixed Vegetables – 2 cups (mix of carrot, cabbage, beans, capsicum)
Finely chopped green chillies – 1
Finely chopped ginger -1/2 tsp
Spring onion greens -2 tbsp
Cornflour – 1 tbsp
Soya sauce -1/2 tsp
Chilli sauce -1/2 tsp
Cooked rice – 1/3 cup
Oil for frying the balls
Preparation
Chop all the vegetables finely. Steam cook them until soft. Check out my
vegetable cutlet recipe
to know how I cooked the vegetables.
After the vegetables are cooked, put them in a cloth and squeeze out as much water as possible. Refer picture below. We will use that water which is actually vegetable stock for the gravy later. Now the vegetables are ready.

Method
Take the cooked vegetables in a bowl, add finely chopped green chillies, spring onion greens, ginger, cornflour, soya sauce, chilli sauce and cooked rice. Mash it nicely and make balls.

Make even sized balls out of it. I got 10 balls. Now heat oil in a kadai and fry just 1 ball and see. If it breaks, add more cooked rice, mash it, mix well and make balls.
Deep fry the balls until golden brown. Remove the balls from the oil and drain on paper towels. Now the vegetable manchurian balls are ready. We will prepare the gravy.

Ingredients needed for the sauce/ gravy
Sesame seed oil/vegetable oil -2 tbsp
Garlic – 1/4 cup minced
Green chilli -1/2 tbsp
Ginger -2 tsp
Onion – 3/4 cup very finely chopped
Spring onion greens – 1/4 cup
Soya sauce – 1 1/2 tbsp
Chilli sauce -1 tbsp
Pepper powder -1/2 tsp
Sugar – 1 tsp
Salt needed
Cornflour -2 tbsp mixed with 1/4 cup of water
Method
Heat oil in a pan, add garlic, ginger and green chillies. Saute for a few minutes.
Then add onions and saute until onions become transparent.

Add spring onion greens, soya sauce, chilli sauce, pepper powder, sugar, salt needed and saute on high flame for a few seconds.
If you want dry manchurian, reduce the flame, add the balls at this stage, mix well until well coated with the sauce and switch off the flame. Dry vegetable manchurian is ready.

Vegetable Manchurian Gravy
If you want gravy, after adding both the sauce and pepper powder, add the vegetable stock/water (around 3/4 cup) which we reserved earlier for the gravy. Mix well.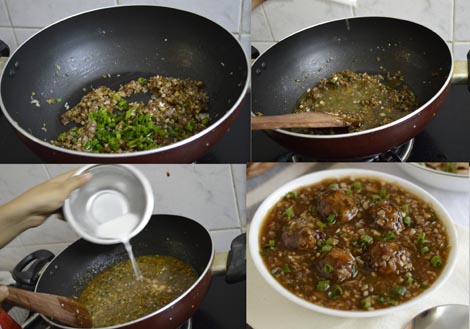 Now keeping the flame in low, add the cornflour mix stirring continuously. The sauce will start to thicken. Once it thickens, add the balls, mix well to coat and switch off the flame. This is vegetable manchurian gravy.
Note – Add the balls only at the time of serving.
Sauces can be adjusted according to individual preferences.
Other side dishes for fried rice
If you found this post useful, I would really love it if you pin it or share it with your Facebook fans or Twitter followers or Google+ circles today. All it takes is a simple click on the "pin it" "like," "share," "tweet," or Google+ buttons below the post. It will keep me motivated. Thank you!