Steaming is a method of cooking using steam. When you boil water, it produces steam which is used to cook the vegetables. All kinds of food like vegetables, fruits, meat, fish, pasta etc can be steamed. It is one of the simplest and healthiest cooking methods.
Benefits of steaming
In steam cooking the food never comes in contact with the boiling water, so the loss of vitamins and minerals are less.
It also tends to retain the taste, color, flavor and essential nutrients from the vegetables, making it extremely healthy.
Steam cooking does not require oil, so the food cooked is very healthy and light.
The chances for over cooking or burning food is avoided when you steam food.
Cooks food faster.
Two different foods can be steamed at the same time without the favors getting mixed up.
Tupperware Steam It
Tupperware
is working on spreading awareness about a healthy food lifestyle without compromising on the taste. I am happy to be a part of it. Recognizing the virtues of steaming food, Tupperware Brands takes tradition further with the revolutionary
Steam it.
They have launched a product called Steam it with features for safe and hygienic cooking. They had sent me a gift pack with 2 'Steam it' (one for me and another to give as gift of health to a loved one) to experiment and to share my experience of using steam it. I tried many recipes using 'steam it' and really enjoyed it.
Steamed Vegetable Salad Recipe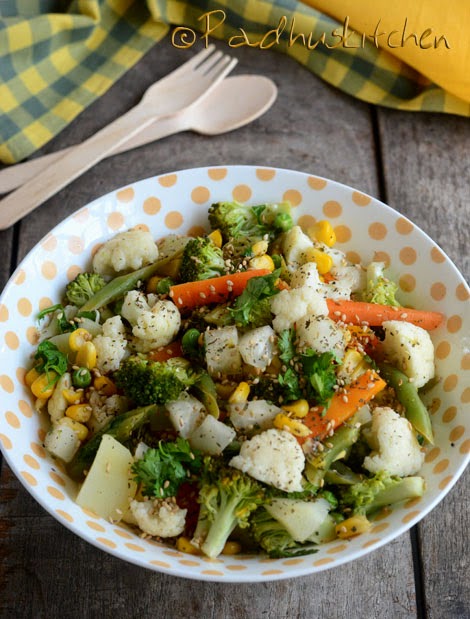 Prep Time : 10 mins
Cook Time
:
6 mins
Serves
:
4-5
Recipe Category
:
Salad
Recipe Cuisine
:
Indian
Author
:
Padhu Sankar
Ingredients needed
Beans -6-7
Carrot -2
Potato -1 small
Turnip -1
Broccoli florets -10
Cauliflower florets -10
Sweet Corn -1/2 a medium sized corn
Peas -1/4 cup
Salad Dressing
Lemon juice to taste
Pepper powder to taste
Salt as needed
For Garnishing
Roasted Sesame seeds
Coriander leaves or parsley finely chopped -2 tbsp
Dried Basil -1 tsp
Oregano -1/2 tsp

How to Steam Vegetables

Clean and cut the vegetables needed for the salad. The smaller the pieces the faster they will steam.

You can enjoy the health benefits of vegetables by eat them raw or by cooking them the proper way. Not doubt steaming is a healthier option as it retains most of the nutrients, vitamins and fiber.

Vegetables I used for this salad – carrot, beans, turnip, potato, cauliflower, broccoli, sweet corn and fresh green peas.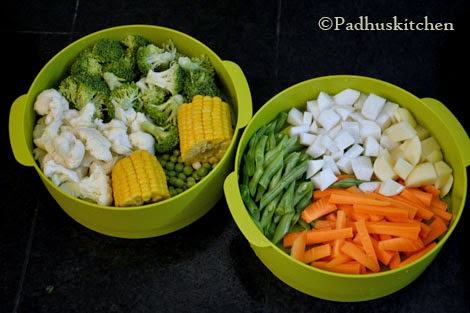 Method
Boil water in a pan or wok, when it starts boiling, place the steamer (bamboo or stainless steel) or Tupperware Steam it . The steam from the boiling water cooks the vegetables.
I placed vegetables that need longer time to cook in the lower container and vegetables that need less time to get cooked in the upper container. I steamed all the vegetables in one go. It saved a lot of time and fuel. Steam the vegetable covered until tender but should retain its crunchiness.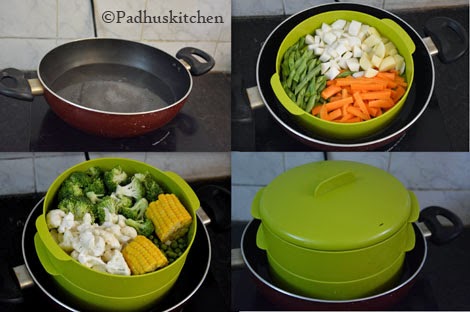 So do not over cook the vegetables. Check in between to see if the vegetables are done. Except beans, the rest of the vegetables were ready in 6 minutes. Beans needed 2-3 minutes more than the rest of the vegetables.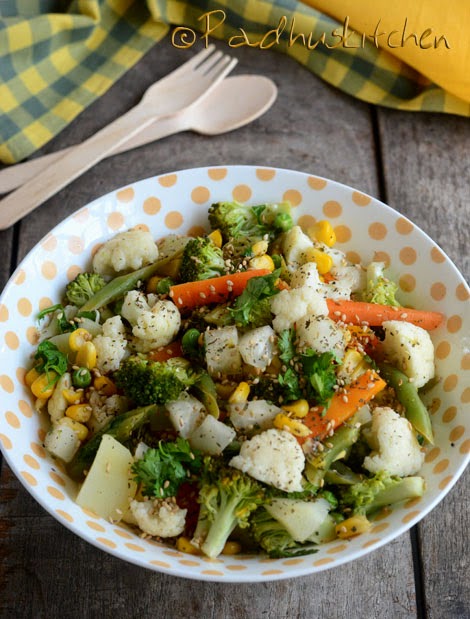 Method to prepare salad
Once you have steamed the vegetables, leave it to cool.
In a large bowl, place all the steamed vegetables, add freshly squeezed lemon juice, pepper powder and salt to taste. Toss well to coat.
Add roasted sesame seeds, finely chopped coriander leaves, oregano, basil and mix well.
This salad is healthy, delicious, low in fat and carbohydrates and of course low in calories also.
More Ideas
Succeeded in steaming idlis in small greased cups. (center picture)

Steamed plantain stem to make
Plantain Stem Salad
. I also make Oats Vegetable Kozhukattai using Steam it. (steamed oats vegetable balls- picture below) Coming up next.
You can make dhoklas, momos, sweet modaks, mani kozhukattai, salted kozhukattai (steamed dumplings) or even steamed cake. The list is endless.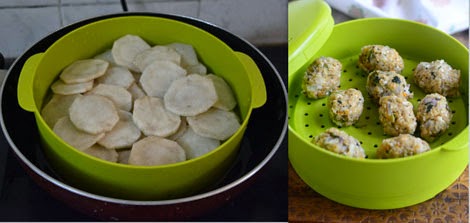 Tupperware products are sold through their distributors or you can Buy Tupperware Polypropylene Steamer from Flipkart.com
Note – You can use bamboo basket, stainless steel steamer or even idli cooker for steaming.
This is not a paid review. All the opinions expressed here are my own and do not represent any other person or organisation.
If you found this post useful, I would really love it, if you pin it or share it with your Facebook fans or Twitter followers or Google+ circles today. All it takes is a simple click on the "pin it" "like," "share," "tweet," or Google+ buttons below the post. It will keep me motivated. Thank you!