Eating good food is essential for good health. Bachelors who have no experience of cooking or basic kitchen knowledge find it very difficult having to cook for themselves when living alone. Eating out isn't good for the health and is also not affordable especially for students. Many recipes are in fact very simple and need only a minimum number of ingredients. A lot of the dishes share common ingredients, hence it is much cheaper and a healthier option to cook one's own food.
Easy cooking recipes for Bachelors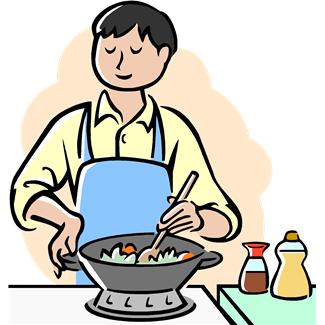 Image courtesy -Microsoft clip arts
In this section, I have given

easy and quick Indian recipes for Bachelors

. I have made the basic Indian recipes in a very simple way and with the help of basic, easily available ingredients. So bachelors do not spoil your health by eating outside, even if you cook only once in a day, make it wholesome, nutritious and balanced. Happy Cooking!

Quick Fix Lunch and Dinner recipes

Peas Pulao

Simple Vegetable Pulao (this easy pulao can also be called bachelor's pulao as there is not elaborate grinding of masalas, no ginger garlic paste or even chilli powder, yet satisfying and delicious)

Red beans rice (a protein rich and filling dish-You can substitute red beans with any bean seed.)

Vegetable Biryani (A quick and delicious veg biryani recipe)
One Pot Easy Cooker Biryani (with step wise pictures)

Lemon Rice with easy potato curry

Special Curd rice fortified with vegetables and
instant mango pickle
Carrot rice
Quick Raw Mango Rice
Thayir Semiya A quick fix lunch and dinner recipe with vermicelli
Mushroom Biryani – ( a very easy biryani recipe)
Vegetable Pulao (another version)
Tomato Pulao
Semiya Biryani + Semiya Bagala bath + Mixed Vegetable Pachadi

A quick Moong dal Khichdi and a easy potato gravy as side dish

For a change, you can make rice and dal one day or bottle gourd dal
with rice.

Ridge Gourd dal + rice

Basic Sambar recipe (sambar powder is readily available in the market)

Arachuvitta sambar (without sambar powder)

How about a simple vegetable sandwich and fruit juice or any other sandwiches

Now-a-days ready made dosa batter is available in the market.You do not have to strain yourself by preparing dosa batter, just check out my post on how to make dosa and you can prepare dosa yourself.

If you cannot get dosa batter in your place, here are some easy dosa varieties-

You can try these easy breakfast recipes also
Aloo Poha can be done is a few minutes time.
Oat savoury porridge (salted version)

Brown Rice Upma (healthy upma)
Aval Upma
Vegetable Noodles
Idli Upma
Also find many Rice Recipes and One pot meals which are easy to prepare and taste delicious.

This page will be updated as and when easy recipes for bachelors are posted.Thank you for visiting padhuskitchen.com. Have a good day.